The Commonwealth Games has been thrown into more chaos after a ceiling collapsed at the weightlifting arena - a day after a footbridge collapsed, injuring 27 people.
It comes as Scotland said it was delaying sending its athletes to Delhi over health and safety fears.
Some of the world's top athletes have already pulled out amid widespread anger over India's last-minute preparations for the Games, which are due to start in 11 days.
Buildings are unfinished, two structures have now collapsed at the main stadium, and the athlete's village is said to be filthy.
On Monday, 27 people were injured - five critically - when a footbridge linking a parking area with the Jawaharlal Nehru stadium collapsed.
In another embarrassment, a false ceiling came down on Tuesday at the stadium's 2,500-capacity weighlifting arena.
The shooting of two foreign visitors by suspected militants combined with a dengue fever epidemic, heavy monsoon rains, delayed construction, and traffic chaos have only added to the safety fears.
The Australian government have said they are confident India can sort out the problems in time - but they are admitting concerns about the safety of their athletes.
Commonwealth Games Scotland's chef de mission Jon Doig said in a statement: "We will continue to work closely with the organisers to do everything possible to ensure that a satisfactory solution can be achieved for the benefit of all 71 competing countries.
"We will continue to monitor the situation before determining our next response.
"At this point we are planning for full participation in the Games and sincerely hope that the outstanding issues can be resolved, however we will not compromise on issues of health, safety and security."
England's participation has also been thrown into doubt with officials demanding guarantees about safety.
We are doing our best and we are sure and confident that we will be able to complete the entire cleaning of the residential wing.
Commonwealth Games organisers
Around 8,000 athletes from Britain and its former colonies are due to take part in the competition.
Triple-jumper Phillips Idowu has pulled out citing "safety concerns", as has Australia's discus world champion Dani Samuels - and more top stars are expected to follow.
Sky News sports editor Nick Powell said if more big names do pull out, and the problems get worse, it could spell the end of the Commonwealth Games. The next are due to take place in Glasgow in 2014.

View Stadium Collapse In Delhi in a larger map
India has had seven years to prepare for the competition.
The event was due to be its 'coming out' party in the same way as the 2008 Olympics was for China.
"Fingers crossed, India may pull off a miracle," said Boria Majumdar, a sports historian who wrote the book Sellotape Legacy: Delhi and the Commonwealth Games.
"But it will have to be a miracle. No doubt about that".
Does this look ready to you? Chaos in run-up to Commonwealth Games
A collapsed bridge, rooms 'unfit for habitation' and now top athletes pulling out. Will the Games in Delhi go ahead?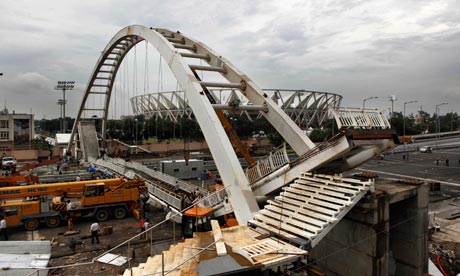 Indian workers stand at the scene of bridge collapse near Jawaharlal Nehru stadium in New Delhi, India. Photograph: Anupam Nath/AP
The white plastic canopy stretched over the reconditioned terraces glowed purple and red. Fresh paint gleamed in the late monsoon rain. The air conditioning and mobile toilets were "first class", said workers. But the crowd outside the Jawaharlal Nehru stadium in central Delhi were not there to admire the venue that will host the opening ceremony of the Commonwealth Games in less than two weeks time. They were there to gawp at twisted wreckage – the evidence of the latest disaster to hit the troubled event.
This was billed as the moment when India would stride proudly out on to the world stage. But today saw the 19th Commonwealth Games sinking only further into chaos and recrimination.
It had already been a bad day for the event, even before 23 labourers were injured when a crucial bridge linking the athletes' car park to the main stadium collapsed in the early afternoon. Officials arriving ahead of overseas teams had found rooms in the £150m games village on the outskirts of this city of 17 million people to be "unsafe and unfit for human habitation". This despite the fact that the village is due to open on Thursday.
Some rooms had been flooded out by monsoon rains. In others showers, air conditioning and electrical sockets were not working, while toilets were described as "filthy". With local press reporting that only 18 of the 34 accommodation blocks were complete, team leaders from England, Scotland, Wales, New Zealand, Australia and Canada all expressed shock and concern.
Craig Hunter, England's chef de mission, revealed he was calling for safety assurances from the organisers. "It's hard to cancel an event of this magnitude but we are close to the wire, and teams may start to take things into their own hands," he told the Press Association. "Athletes will start getting on planes soon and decisions will have to be made. We need new levels of reassurance."
Some even threw doubt on whether the games could go ahead. New Zealand's chef de mission, Dave Currie, said: "The way things are looking, iIt's not up to scratch. The reality is that if the village is not ready and athletes can't come, the implications are that it's not going to happen." The Commonwealth Games Federation president, Michael Fennell, described the whole two-week event as "seriously compromised".
His words came as little surprise to observers. The list of problems has lengthened over recent weeks to include corruption scandals, huge cost overruns, shoddy construction that means completed facilities with leaky roofs or subsiding floors. International sports events in any country routinely attract negative press in the runup – see the fuss in South Africa earlier this year – only for the warnings to come to nothing.
But on this occasion it is likely that many projects will simply not be finished at all. The problems are manifest. Holes dug ubiquitously in an effort to "beautify" the Indian capital – millions of pot plants were to be planted – have contributed to an outbreak of dengue fever. The holes were left unfilled, stagnant water collected and mosquitos bred in their millions.
India's weightlifting team has been hit by a doping scandal. Sponsors have pulled out. There is no sign of the hundreds of thousands of tourists expected to flow through the city's rebuilt airport, nor of the approach roads that were going to link its new £1.2bn terminal to the city. Top athletes – and the Queen – will be absent although Prince Charles said yesterday he would be attending. Only last night two top English athletes – Olympic 400m champion Christine Ohuruogu, and 1500m runner Lisa Dobriskey pulled out of the games. Triple jumper Phillips Idowu also wrote on his Twitter page that he would not be going to Delhi, citing safety concerns although his agent said later that no firm decision had been made.
"It is quite simple: we have to hope for a miracle. Otherwise we are facing national disgrace," said Boria Majumdar, an Indian sports historian and author of Sellotape Legacy: Delhi and the Commonwealth Games. "The glare of the world's cameras is upon us."
The fears now are more serious than simply being left with piles of unsold vuvuzelas – tens of thousands have been produced – and mascots. Government officials are investigating allegations that safety certificates for some buildings were falsified to cover up the use of cheaper substandard materials.
One leading Delhi architect blamed a "lack of oversight" for the collapse of the bridge. "These are sensitive structures. They can be done in a hurry but they have to be done well. There has to be very close supervision," Kuldip Singh said as he joined those who avoided stick-wielding policemen to throng a road bridge with a view of the site of the collapse.
There are also concerns about a terrorist attack. Last weekend two tourists were wounded when their bus was attacked by gunmen in north Delhi. Extra security ordered for the games stadia has now been diverted to prominent tourist sites. How different this all looked earlier this year, when headlines in local newspapers about the games, won by Delhi in 2003, were universally positive.
Delhi was "adding world-class facilities and slick services" that would "leave visitors awestruck", said news magazine Outlook. The comparison with the 2008 Beijing Olympics, watched with jealousy and some respect in India, was, if not always explicit, evident. Some spoke of a possible Olympic bid for 2020. But as progressive deadlines have gone by and the problems have mounted, the media has turned on the event and on the administrators and politicians, many from the ruling Congress party. "If we had not given it to these nincompoops then we would not be as ashamed as we might be going to be," Outlook editor Vinod Mehta said.
"We just shouldn't have taken it on the Queen's not coming, nor are top athletes. It's a lose-lose situation. We've got better things to do."
The forced resettlement of more than 100,000 slum dwellers and the closure or demolition of schools seen as eyesores have also prompted criticism, as has the rising cost of the games. The event is now thought to be likely to cost around £2bn, up to 10 times some original estimates. Chetan Baghat, India's top-selling author with a huge youth following, called the event a "lootfest". "The CWG 2010 is, by far, the biggest and most blatant exercise in corruption in independent India's history," Baghat wrote in a recent editorial, "Not only have they stolen public money, they've made a mess of the job at hand."
Yet on the streets around Nehru stadium, little of the bitterness and scepticism was evident. Standing at the crowded bus stands, waiting for often decrepit, overcrowded buses, commuters unanimously voiced their support for the event and their country. "The games will definitely get India name and fame," said SK Najpal, a 58-year-old civil servant. "There are some hurdles, but don't worry. These foreign athletes should be less panicky. I have seen plague in Delhi and it didn't kill me. The games will be a big win for India."
Suggestions that the event might even be cancelled were met with blank astonishment. "That would be very, very, very upsetting," said 18-year-old Deepak Singh. For student Chandra Prarthana, the games were "a matter of pride" for India: "People think we are still a nation of snake charmers. We will have a good and successful games and the world will see our country as it really is."
Organising Committee vice-president Randhir Singh said there was "no problem" and described the buildings as "perfect". He added: "We still have two days for the teams to come and the situation will be under control.
"The buildings are perfect, they've all appreciated, and 24 hours is a long time and we will organise it."